Have you all been linking up to the
Roomspiration
link parties? There are so many great ideas!!!
Today, Dining Room link ups over at Involving Color.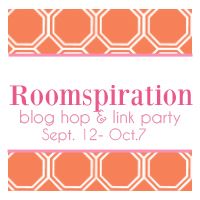 My dining room

This light fixture that started it all.
Check out my table...only $80. It was a horrible shiny brown. I sanded it down, painted it, and distressed it. A while later I decided I would sand the paint off the top and stain it. Love the way it turned out.
framed plates...
One day as I was going through my house, trying to get organized, I came across a large print that I had stored under my bed. I thought that I would paint the frame, get a new mat and hang it on the wall by my kitchen table. Well, my sweet boys decided it would be fun to throw a ball at my picture...the glass broke. I was a little mad, but am happy with the end result; a frame without glass, perfect for my plate display.
I have seen numbered chairs in magazines and on blogs a lot lately. I really like the idea, so I got a stencil and painted numbers. I tried them in black first, a bit too stark for me, so I went with the same color as I have on my walls, "Monks Cloth." After the paint dried I went over the numbers with sand paper, just to give it a bit of an aged look.
My chairs...the one on the left has a brown glaze. After looking at the chairs side by side for a few days, I decided to go without the glaze. Although it does bring out the details of the chair a bit more, I thought the brown interfered with my wall color too much.
This is my textured wallpaper that I got at Lowe's for only $20. It was my first wallpaper project and it turned out surprisingly good. After I got it on the wall, I hung some chair rail, painted it (wallpaper & chair rail) "pure white" in semi-gloss, and love it! And that darling little pillow...got it at a little antique/consignment store back East for a mere $4.
After putting butcher block on my little island area, my kitchen/dining area was starting to feel way too brown for my liking...brown walls, tan curtains, wood floors, butcher block counter, and a dark wood top table! In hopes of creating a more cohesive space, I decided to eliminate one of the shades of brown, and painted the table top creamy white again!