A special thanks to Laura from B & B's Nest for hosting this month's giveaway!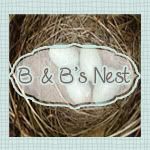 Thank you for all entering this month's giveaway and for all the sweet comments!
I wish you all could win!!!
True Random Number Generator
Min:1
Max: 32
Result: 3
The winner is comment number #3
Bee

said....
Love your Etsy Shop- I love the numbered trays- so cute- thanks for doing a fun giveaway:)

June 13, 2011 10:28 AM
Please email Laura at B & B's Nest with your information so that she can mail it to you soon.